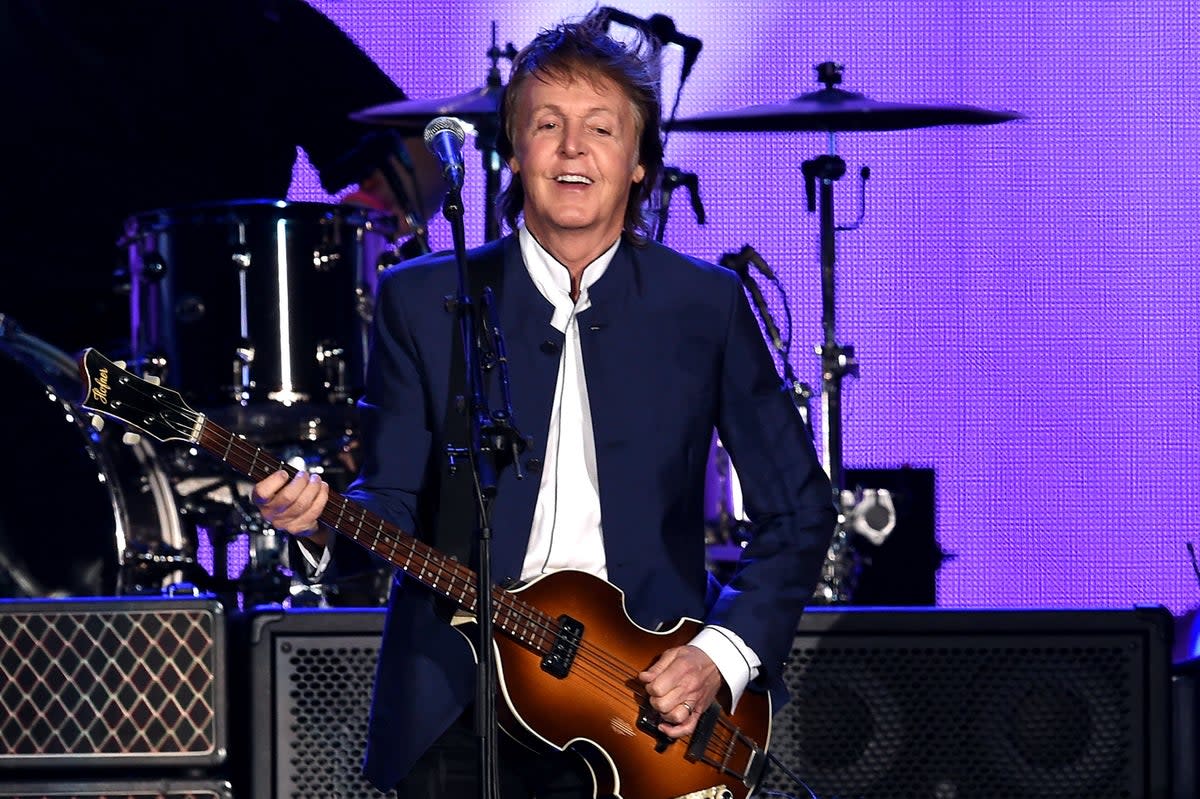 Paul McCartney, 80 years of contemporary Mozart: from the Beatles to eternity.
UK/IT Version – The singer, songwriter and Beatles legend has had a career spanning more than 60 years as one of the most famous stars the UK music industry has produced turns 80 today. His achievements include being part of the most influential pop group of all time, having penned one of the most covered songs, Yesterday, which has been re-done by more than 2,000 artists, and winning a trophy cabinet full of awards.
Born in Liverpool in 1942, Sir Paul met George Harrison at school and, when he was 15, met John Lennon and his skiffle band The Quarrymen at a church fete and was invited to join. Sir Paul and Lennon later branched off on their own, with Harrison joining them along with Stuart Sutcliffe on bass and Pete Best on drums.
The group called themselves The Beatles – the name intended to be a homage to Buddy Holly's backing band The Crickets – and when Sutcliffe left the band in 1961 Sir Paul took over on bass. In 1962, Sir Ringo Starr replaced Best as drummer.
Brian Epstein signed The Beatles in 1962 and they had their first hit with Love Me Do later that year. Over the next seven years, The Beatles had hits with songs including Hey Jude, She Loves You, Twist And Shout, and All You Need Is Love until splitting in 1970.
Sir Paul later formed a group, Wings, with his wife Linda as one of the members. Wings went on to have hits with songs including Live And Let Die and Mull Of Kintyre, before disbanding in 1981.
The singer's solo career has included some high-profile collaborations, including Ebony And Ivory with Stevie Wonder, The Girl Is Mine with Michael Jackson, and more recently, FourFive Seconds in 2015 with Kanye West and Rihanna. Rihanna.
In 2018 Sir Paul claimed his first US number one album o7n the Billboard chart for 36 years, with his 18th solo studio album Egypt Station powering past rapper Eminem's Kamikaze. And in the UK, 2020's McCartney III gave him his first UK number since 1989's Flowers in the Dirt.
During his career, Sir Paul's awards have included 18 competitive Grammys, an OBE, and being inducted into the Rock And Roll Hall Of Fame twice. In 2017, he was appointed a member of the Order of the Companions of Honour – a special award granted to those who have made a major contribution to the arts, science, medicine or government.
Cantante, cantautore e leggenda dei Beatles con una carriera che dura da più di 60 anni, una delle star più famose che l'industria musicale britannica abbia prodotto compie oggi 80 anni. I suoi successi includono aver fatto parte del gruppo pop più influente di tutti i tempi, aver scritto una delle canzoni più coverizzata, Yesterday, che è stata rifatta da più di 2.000 artisti, e aver una bacheca piena di premi.
Nato a Liverpool nel 1942, Sir Paul conobbe George Harrison a scuola e, quando aveva 15 anni, incontro' John Lennon e la sua banda The Quarrymen a una festa in chiesa e fu invitato a unirsi. Sir Paul e Lennon in seguito proseguirono da soli, con Harrison che si unì a loro insieme a Stuart Sutcliffe al basso e Pete Best alla batteria. Il gruppo si chiamava The Beatles – il nome voleva essere un omaggio alla band di supporto di Buddy Holly The Crickets – e quando Sutcliffe lasciò la band nel 1961 Sir Paul prese il posto al basso. Nel 1962 Sir Ringo Starr sostitui' Best come batterista. Brian Epstein ingaggio' i Beatles nel 1962 e ebbero il loro primo successo con Love Me Do nello stesso anno. Nei sette anni successivi, i Beatles divennero famosi con canzoni come Hey Jude, She Loves You, Twist And Shout e All You Need Is Love fino allo scioglimento nel 1970.
Sir Paul in seguito formò un gruppo, Wings, con sua moglie Linda come uno dei membri. I Wings vantarono successi come Live And Let Die e Mull Of Kintyre, prima di sciogliersi nel 1981. La carriera da solista del cantante include alcune collaborazioni di alto profilo, tra cui Ebony And Ivory con Stevie Wonder, The Girl Is Mine con Michael Jackson e, più recentemente, FourFive Seconds nel 2015 con Kanye West e Rihanna.
Nel 2018 Sir Paul raggiunge il primo posto nella classifica di Billboard dopo 36 anni con il suo 18esimo album in studio da solista Egypt Station scalzando dalla prima posizione il rapper Eminem. E nel Regno Unito, McCartney III del 2020 gli ha regalato la prima posizione che non raggiungeva da Flowers in the Dirt nel 1989.
Durante la sua carriera, i premi di Sir Paul hanno incluso 18 Grammy, un OBE e due volte l'ingresso nella Rock And Roll Hall Of Fame. Nel 2017 è stato nominato membro dell'Ordine dei Compagni d'Onore, un premio speciale assegnato a coloro che hanno dato un contributo importante alle arti, alla scienza, alla medicina o al governo.