Royal Mail celebrates The Rolling Stones' 60th anniversary with stamp collection – La Royal Mail celebra il 60° anniversario dei Rolling Stones con una collezione di francobolli
UK/IT Version – Royal Mail is honouring The Rolling Stones' 60th anniversary as a band by releasing 12 commemorative stamps. Available to pre-order right now ahead of their release on Thursday 20th January, eight of the stamps depict. The Rolling Stones in their imperious live glory and the remaining four feature group shots from various stages in the band's fabled history.
The live shots originate from the band's legendary Hyde Park show in London in July 1969, together with East Rutherford, New Jersey in August 2019; Rotterdam in August 1995; Tokyo in March 1995; New York City in July 1972; Oslo in May 2014; Knebworth in August 1976; and Düsseldorf in October 2017. The stamps can be bought in a variety of bundles and special limited edition releases that range in price from £5 for a stamp book through to £149.99 for a Rolling Stones stamp set plated in pure 24 carat gold with colourised and embossed detailing.
The Rolling Stone become the fourth music group to be honoured with stamps by Royal Mail following The Beatles in 2007, Pink Floyd in 2016 and Queen in 2020. "Few bands in the history of rock have managed to carve out a career as rich and expansive as that of the Rolling Stones," says David Gold, the Royal Mail's director of public affairs & policy. "They have created some of modern music's most iconic and inspirational albums, with ground-breaking live performances to match."
Rolling Stones on RockDream.zone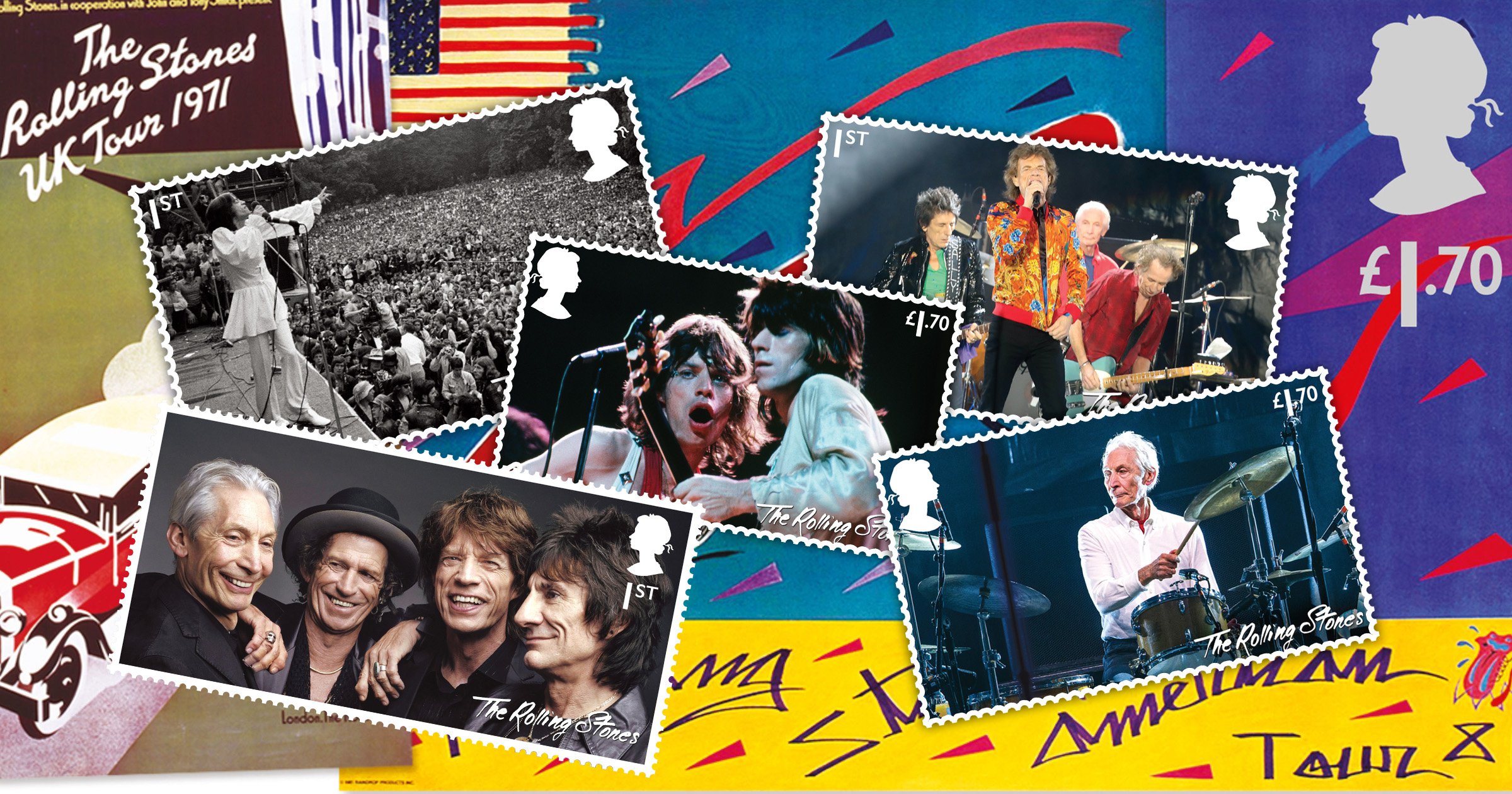 Le Royal Mail celebrano il 60° anniversario dei Rolling Stones rilasciando 12 francobolli commemorativi. Disponibili per il preordine in questo momento prima della loro uscita giovedì 20 gennaio, otto francobolli raffigurano i Rolling Stones nella loro imperiosa gloria dal vivo e i restanti quattro presentano foto di gruppo da vari stadi della leggendaria storia della band.
Le immagini dal vivo provengono dal leggendario spettacolo della band a Hyde Park a Londra nel luglio 1969, insieme a East Rutherford, nel New Jersey, nell'agosto 2019; Rotterdam nell'agosto 1995; Tokyo nel marzo 1995; New York City nel luglio 1972; Oslo nel maggio 2014; Knebworth nell'agosto 1976; e Düsseldorf nell'ottobre 2017. I francobolli possono essere acquistati in una varietà di pacchetti e versioni speciali in edizione limitata che vanno da £ 5 per un libro di francobolli fino a £ 149,99 per un set di francobolli Rolling Stones placcato in oro puro 24 carati con dettagli colorati e in rilievo.
I Rolling Stone sono diventati il quarto gruppo musicale ad essere premiato con i francobolli dalla Royal Mail dopo i Beatles nel 2007, i Pink Floyd nel 2016 e i Queen nel 2020. "Poche band nella storia del rock sono riuscite a ritagliarsi una carriera così ricca ed espansiva come quella dei Rolling Stones", afferma David Gold, direttore degli affari pubblici e delle politiche della Royal Mail. "Hanno creato alcuni degli album più iconici e stimolanti della musica moderna, con esibizioni dal vivo rivoluzionarie da abbinare".