Celebrating 50 Years of John Lennon's 'Imagine'
UK/IT Version – "Imagine", John Lennon's second album, produced by Lennon, his wife Yoko Ono and Phil Spector, was released on 9 September 1971 on Apple Records.
The album, remembering, was preceded by another titled John Lennon/Plastic Ono Band. A work where John discovers, in the opinion of the expert musicologist León García Michel, his most torn entrails, his deepest fears and pains. An album full of anger, anxiety and vulnerability, where they stand out "Mother", "Love" and "God". "Imagine"On the contrary, it shows Lennon in his idealistic and pacifist side. It is a masterpiece of music and for many a hymn of love and peace.
The song "Imagine" has been called a 'humanistic paean for the people.' It has been described as 'an enduring hymn of solace and promise that has carried us through extreme grief. It has repeatedly been chosen by critics and voted by audiences as one of the great songs of the seventies, of the century, of all time. Bono has said he would not be a musician if he had not heard this song. Stevie Wonder broke down while performing it on Stage. It has been covered hundreds of times by a plethora of artists, from Neil Young to Joan Baez, from Coldplay to Lady Gaga. It is one of Lennon's more enduring legacies, perhaps even surpassing what he gave to the world as one of the founding members of The Beatles. But what has been considered for decades to be an anthem of peace, is in fact, a radical call for revolution.
With only 26 lines and not a single word over three syllables, with a free-flowing melody and minimalist sound production, it is, by all means, a simple song. And yet, "Imagine" by John Lennon, a song he once claimed is for children, continues to profoundly tug at the heartstrings even 50 years after it was first bestowed on us.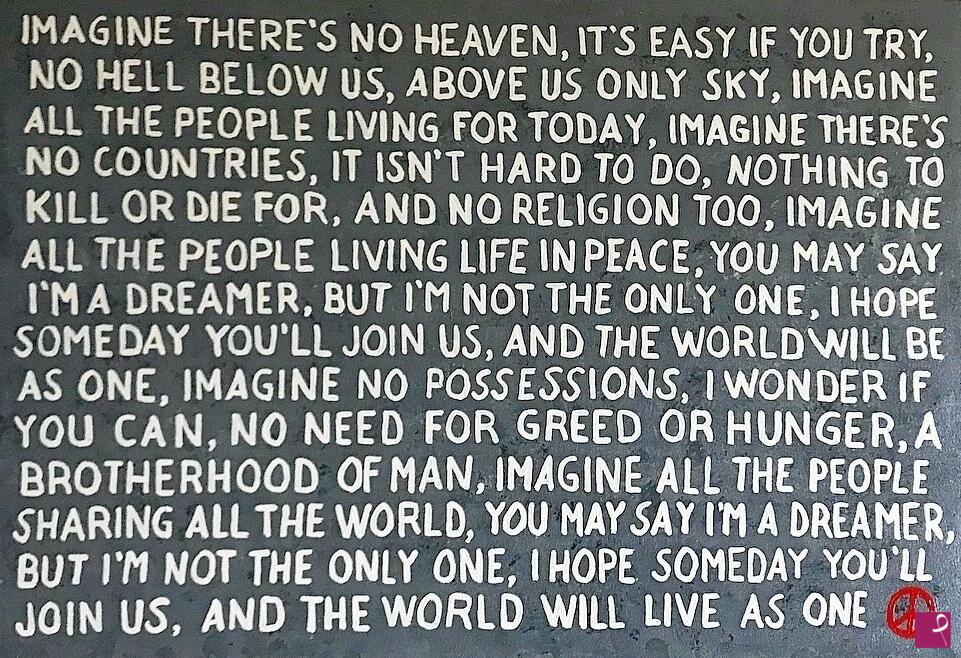 David Fricke, senior editor at Rolling Stone magazine, has pointed out the marked absence of the word 'love' in "Imagine." A song that has caused many an emotional upheaval in listeners is entirely devoid of sentimentality. The words in it are not only unambiguous but distinctly political. And anarchistic. And revolutionary. According to anthropologist Desmond Morris: the lyrics attack nationalism ('Imagine there's no countries'), patriotism ('Nothing to kill or die for'), capitalism ('Imagine no possessions'), social inequality ('no need for greed or hunger'), religion ('Imagine there's no heaven') and the concept of the afterlife ('Imagine all the people living for today'). This version of Lennon seems at odds with his public persona as a Beatle. But the fact is, Lennon was always an agitator. Born and raised in Liverpool, England, he was convinced he was an unwanted child—a belief that would shape his personality in more ways than one. His father was a merchant seaman who would be away for extended periods while his mother surrendered, or some say was forced to, the custody of Lennon to her sister. His aunt and her husband raised him, and through his own admission, he was the troublemaker from whom other kids were warned to stay away. 'I did my best to disrupt every friend's home…partly out of envy,' he once said.
In 2017, after 47 years, the National Music Publisher Association recognized the participation of Yoko Ono in the development of the song. To do this, he showed an archive recording in which John underlines Yoko's active collaboration in "Imagine". In it he acknowledges that Ono did not appear in the 1971 credits: "At that time I was much more selfish than I am now and I avoided mentioning all their contributions". After all, if there is a character who never denied his feminism that is John Lennon, who at some point in his life recognized his past and the violence he exercised against the women around him, as well as the path he undertook towards re-education.
"Imagine" has been performed on various occasions at the opening or closing of other Olympic events, for example Atlanta 1996, London 2012, PyeongChang 2018 (Winter Games) and now Tokyo 2020.
Phrases from the album 'Imagine' that have endured
"Cripple Inside": "You can ball your shoes and wear a suit / you can comb your hair and look nice / you can hide your face behind a smile / one thing you can't hide is when you're rotten inside".
"Jelous Guy": "I felt insecure / that you couldn't love me anymore / I was shaking inside / I didn't mean to hurt you / I'm sorry I made you cry / I didn't mean to hurt you / I'm just a jealous guy".
"Gimme Some Truth": "I'm sick and tired of hearing things / of upright closed-minded, short-sighted hypocrites / all I want is the truth / just give me a little bit of truth".
"Oh my Love": "Oh my love for the first time in my life / my eyes are wide open / Oh my love for the first time in my life / my eyes can see".
"How Do You Sleep": "The only thing you did was Yesterday / and since you've gone you're just Another day."
"How": "How can I give love when I don't know what I'm giving? / How can I give love when I don't know how to give it? / How can I give love when love is something I never had?".
And of course "Imagine": "Imagine all the people living life in peace / You can say that I am a dreamer / but I am not the only one / I hope one day you will join us".
So things, "Imagine" turns 50 and it's fair to dust off the album and listen to it.
"Imagine",il secondo album di John Lennon, prodotto da Lennon, sua moglie Yoko Ono e Phil Spector, viene pubblicato il 9 settembre 1971 dalla Apple Records.
L'album, lo ricordiamo, è stato preceduto da "John Lennon/Plastic Ono Band". Un'opera in cui John scopre, secondo l'esperto musicologo León García Michel, le sue viscere più lacerate, le sue paure e i suoi dolori più profondi. Un album carico di rabbia, ansia e vulnerabilità, dove spiccano "Mother", "Love" e "God". "Imagine", al contrario, mostra Lennon nel suo lato idealistico e pacifista. È un capolavoro di musica e per molti un inno d'amore e di pace.
La Canzone "Imagine" è stata definita un "peana umanistico per il popolo". È stata descritta come "un inno duraturo di conforto e promessa che ci ha portato attraverso un dolore estremo". È stata più volte scelta dalla critica e votata dal pubblico come una delle grandi canzoni degli anni Settanta, del secolo, di tutti i tempi. Bono ha detto che non sarebbe un musicista se non avesse sentito questa canzone. Stevie Wonder è scoppiato in lacrime durante l'esecuzione sul palco. È stato coverizzata centinaia di volte da una pletora di artisti, da Neil Young a Joan Baez, dai Coldplay a Lady Gaga.  È una delle eredità più durature di Lennon, forse addirittura superiore a ciò che ha dato al mondo come uno dei membri fondatori dei Beatles. Ma quello che per decenni è stato considerato un inno alla pace, è in realtà un appello radicale alla rivoluzione.
Con solo 26 righe e non una sola parola con più di tre sillabe, con una melodia fluida e una produzione sonora minimalista, "Imagine" di John Lennon è, in ogni caso, una canzone semplice. Eppure una canzone che una volta si sosteneva fosse per bambini, continua a tirare profondamente le corde del cuore anche 50 anni dopo che ci è stata donata per la prima volta.
David Fricke, editor della rivista Rolling Stone, ha sottolineato la marcata assenza della parola "amore" in "Imagine". Una canzone che ha causato molti sconvolgimenti emotivi negli ascoltatori è del tutto priva di sentimentalismo. Le parole in esso contenute non sono solo inequivocabili, ma spiccatamente politiche. E anarchiche. E rivoluzionarie. Secondo l'antropologo Desmond Morris: i testi attaccano il nazionalismo ("Immagina che non ci siano paesi"), il patriottismo ("Niente per cui uccidere o morire"), il capitalismo ("Immagina senza proprietà"), la disuguaglianza sociale ("non c'è bisogno di avidità o fame"). '), la religione ('Immagina che non ci sia il paradiso') e il concetto di aldilà ('Immagina tutte le persone che vivono per oggi'). Questa canzone di Lennon sembra in contrasto con il suo essere un Beatle. Ma il fatto è che Lennon è sempre stato un agitatore. Nato e cresciuto a Liverpool, in Inghilterra, era convinto di essere un bambino indesiderato, una convinzione che avrebbe plasmato la sua personalità in più di un modo. Suo padre era un marinaio che sarebbe stato via per lunghi periodi mentre sua madre cedeva, o alcuni dicono era costretta a, la custodia di Lennon a sua sorella. Sua zia e suo marito lo hanno cresciuto e, per sua stessa ammissione, era il piantagrane da cui gli altri bambini erano stati avvertiti di stare alla larga. "Ho fatto del mio meglio per distruggere la casa di ogni amico… in parte per invidia", ha detto una volta.
Nel 2017, dopo 47 anni, la National Music Publisher Association, ha riconosciuto la partecipazione di Yoko Ono allo sviluppo della canzone. Per fare questo, ha mostrato una registrazione d'archivio in cui John sottolinea la collaborazione attiva di Yoko in "Imagine". In essa riconosce che Ono non compariva nei titoli di coda del 1971: "A quel tempo ero molto più egoista di quanto non lo sia ora e ho evitato di menzionare tutti i suoi contributi". Del resto, se c'è un personaggio che non ha mai rinnegato il suo femminismo è John Lennon, che ad un certo punto della sua vita ha riconosciuto il suo passato e le violenze che ha esercitato contro le donne che lo circondavano, nonché il percorso che ha intrapreso verso la rieducazione .
"Imagine" è stato eseguita in varie occasioni all'apertura o alla chiusura dei Giochi Olimpici, ad Atlanta 1996, a Londra 2012, a PyeongChang 2018 (Giochi invernali) e ora a Tokyo 2020.
Frasi dall'album "Imagine" durate nel tempo
"Cripple Inside": "Puoi infilare le scarpe e indossare un vestito / puoi pettinarti e avere un bell'aspetto / puoi nascondere il tuo viso dietro un sorriso / una cosa che non puoi nascondere è quando sei marcio dentro".
"Jelous Guy": "Mi sentivo insicuro / che non potevi più amarmi / tremavo dentro / non volevo ferirti / mi dispiace di averti fatto piangere / non volevo ferirti / Sono solo un ragazzo geloso".
"Gimme Some Truth": "Sono stufo di sentire cose / di ipocriti retti dalla mentalità chiusa e miope / tutto ciò che voglio è la verità / dammi solo un po' di verità".
"Oh my Love":  "Oh mio amore per la prima volta nella mia vita / i miei occhi sono spalancati / Oh mio amore per la prima volta nella mia vita / i miei occhi possono vedere".
"How Do You Sleep": "L'unica cosa che hai fatto è stata ieri / e da quando te ne sei andato sei solo un altro giorno".
How : "Come posso dare amore quando non so cosa sto dando? / Come posso dare amore quando non so come darlo? / Come posso dare amore quando l'amore è qualcosa che non ho mai avuto?".
E naturalmente "Imagine": "Immagina tutte le persone che vivono in pace / Puoi dire che sono un sognatore / ma non sono l'unico / spero che un giorno ti unirai a noi".
"Imagine" compie 50 anni ed è giusto rispolverare l'album e ascoltarlo.