Brown Sugar turns 50. The true story of the "forbidden song" that wrote the legend (and the excesses) of the Rolling Stones
UK/IT Version – The Rolling Stones' "Brown Sugar" is a stew of controversial topics: Slavery, rape and interracial sex are just a partial list. The first single release from the Sticky Fingers, it was written primarily by Mick Jagger in 1969, and released in the U.K. on April 16, 1971. Despite its controversial subject matter, "Brown Sugar" shot to No. 1 in the U.S. shortly after its stateside debut on May 7.
"I wrote that song in Australia in the middle of a field," Jagger told Rolling Stone in 1995. "They were really odd circumstances. I was doing this movie, Ned Kelly, and my hand had got really damaged in this action sequence. So stupid. I was trying to rehabilitate my hand and had this new kind of electric guitar, and I was playing in the middle of the outback and wrote this tune.
The identity of the woman who inspired the song has been debated for years. Singer and novelist Marsha Hunt, mother of Jagger's first child Karis, claims in her autobiography "Real Life" that she is the inspiration for "Brown Sugar." But backing singer Claudia Lennear believes the song is based on her. "Around the time 'Brown Sugar' became a hit for the Rolling Stones, Mick Jagger and I were always seen together in restaurants and nightclubs in Los Angeles," Lennear told "The Express". "That's why people thought the song was about me, and Mick later confirmed that it was."
"Brown Sugar" was recorded at Alabama's Muscle Shoals Sound Studio during sessions from Dec. 2–4, 1969 that also produced "Wild Horses" and "You Gotta Move." Jagger took little time to write the words to "Brown Sugar." "You can't imagine how nonchalantly Jagger wrote that," says the session pianist Jim Dickinson. "It was already a fully developed song as far as the music went, but there were no lyrics. Jagger sat down and filled up three pages. It took him 45 minutes. Then he stood up and sang. It was unbelievable."
In "Keith Richards' Life", Dickinson clears up an often-misheard line. "If you listen to the lyrics, he says, 'Skydog slaver' (though it's always written 'scarred old slaver'). What does that mean? Skydog is what they called Duane Allman in Muscle Shoals, because he was high all the time. And Jagger heard somebody say it and he thought it was a cool word so he used it."
The Rolling Stones debuted "Brown Sugar" a few days later at their infamous concert at Altamont. Legal wrangles with their manager, Allen Klein, kept the "Sticky Fingers" LP out of record stores for more than a year. During the delay, the Stones recorded an alternate version of "Brown Sugar" with Eric Clapton on slide guitar and Al Kooper on piano.
Jagger admitted in 1995 that his lyrics may have gone a bit far. "God knows what I'm on about on that song. It's such a mishmash. All the nasty subjects in one go. […] I never would write that song now. I would probably censor myself. I'd think, 'Oh God, I can't. I've got to stop. I can't just write raw like that.'"
Rolling Stones memorabilia at RockDream.zone
Brown Sugar, la "canzone proibita" che ha scritto la leggenda (e gli eccessi) dei Rolling Stones, compie 50 anni.
"Brown Sugar" è un miscuglio di argomenti controversi: schiavitù, stupro e sesso interrazziale sono solo una lista parziale. Il primo singolo uscito da "Sticky Fingers", fu scritto principalmente da Mick Jagger nel 1969 e pubblicato nel Regno Unito il 16 aprile 1971. Nonostante il suo argomento controverso, "Brown Sugar" raggiunse il primo posto negli Stati Uniti poco dopo la sua uscita il 7 maggio.
"Ho scritto quella canzone in Australia nel bel mezzo di un campo", ha detto Jagger a Rolling Stone nel 1995. "Erano circostanze davvero strane. Stavo facendo questo film, Ned Kelly, e la mia mano si era infortunata in una scena d'azione. Così da stupido, mentre cercavo di riabilitarla  avevo questo nuovo tipo di chitarra elettrica, suonavo nel mezzo dell'entroterra e ho scritto questa melodia."
L'identità della donna che ha ispirato la canzone è stata dibattuta per anni. La cantante e scrittrice Marsha Hunt, madre della primogenita di Jagger, Karis, afferma nella sua autobiografia "Real Life" di essere stata l'ispirazione per "Brown Sugar". Ma la cantante Claudia Lennear crede che la canzone sia basata su di lei. "Nel periodo in cui 'Brown Sugar' divenne un successo per i Rolling Stones, Mick Jagger e io venivamo visti sempre insieme nei ristoranti e nei nightclub di Los Angeles", ha detto Lennear all'Express. "Ecco perché la gente pensava che la canzone parlasse di me, e Mick in seguito lo ha confermato."
"Brown Sugar" fu registrato al Muscle Shoals Sound Studio dell'Alabama durante le sessioni dal 2 al 4 dicembre 1969 che produssero anche "Wild Horses" e "You Gotta Move". Jagger impiegó poco tempo per scriverne il testo. "Non puoi immaginare con quanta disinvoltura Jagger l'abbia scritto", ha detto il pianista Jim Dickinson. "Era già una canzone completamente sviluppata per quanto riguarda la musica, ma non c'erano testi. Jagger si sedette e riempì tre pagine. Gli ci vollero 45 minuti. Poi si alzò e cantò. È stato incredibile ".
In "Keith Richards 'Life", Dickinson chiarisce una battuta spesso incomprensibile. "Se ascolti il testo, dice," Skydog slaver "(anche se è sempre scritto" sfregiato vecchio schiavista "). Cosa significa? Skydog è come chiamavano Duane Allman agli Muscle Shoals Studio, perché era sempre fatto . Jagger ha sentito qualcuno dirlo e ha pensato che fosse una parola interessante, quindi l'ha usata. "
I Rolling Stones suonarono per la prima volta "Brown Sugar" pochi giorni dopo al famigerato concerto di Altamont. Litigi legali con il loro manager, Allen Klein, hanno tenuto l'LP "Sticky Fingers" fuori dai negozi di dischi per più di un anno. Durante il ritardo, gli Stones registrarono una versione alternativa di "Brown Sugar" con Eric Clapton alla chitarra slide e Al Kooper al piano.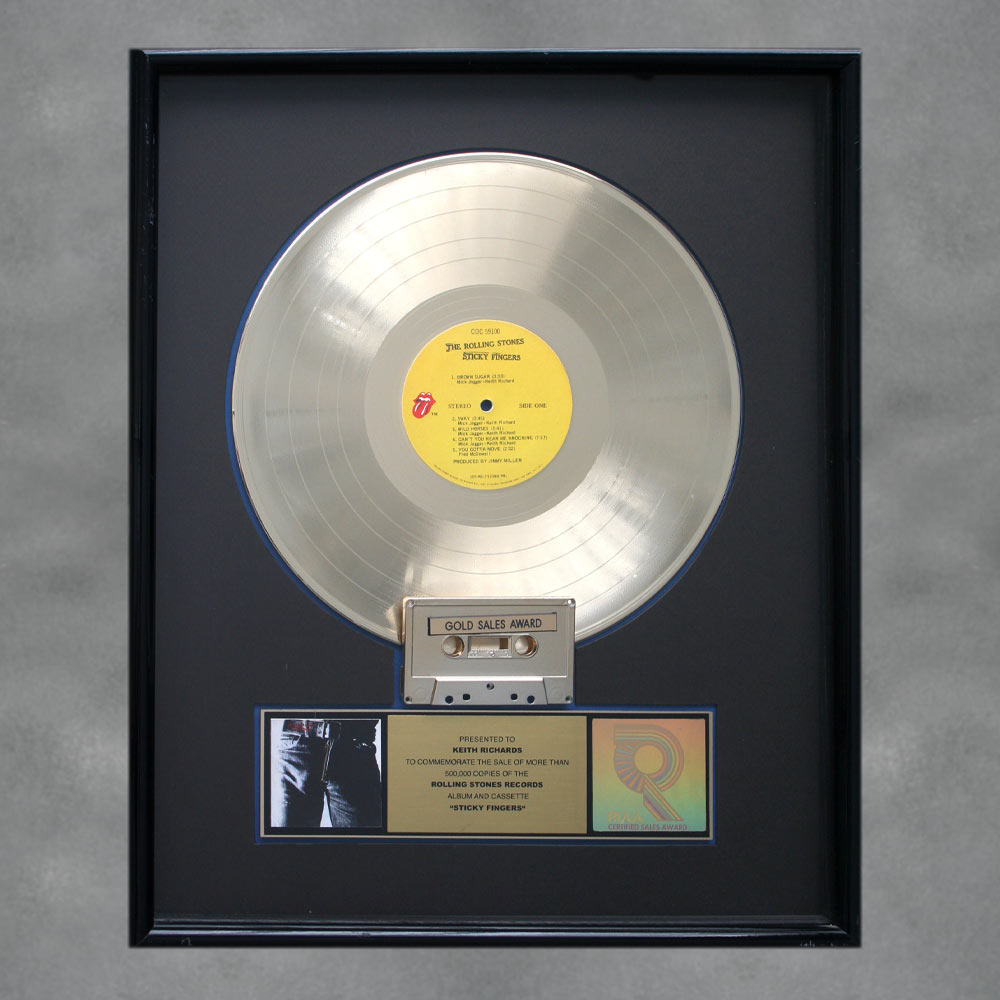 Jagger ammise nel 1995 che i suoi testi potevano essere andati un po 'oltre. "Dio solo sa di cosa parlo in quella canzone. È un tale guazzabuglio. Tutti gli argomenti cattivi in una volta sola. […] Non scriverei mai quella canzone ora. Probabilmente mi censurerei. Penserei, 'Oh Dio, non posso. Devo smetterla. Non posso scrivere in modo così crudo. '"
Rolling Stones memorabilia at RockDream.zone